Open a video game store with the help of Game Start Stores! We go further than a franchise, without the royalties. We have vast experience building video game stores and are ready to help YOU.
*Make sure to fill out the contact form below! That the first step!
*5/24 From now through the end of August 2017 Game Start Stores has reduced it's fee by 5k, making our service even MORE affordable! If you want to open a video game store the time is NOW! Help us spread like wildfire!
*6/20 Prepare for Hidden Level Games coming soon to Rio Grande NJ! We are in the real estate phase now! Stay Tuned!
803-605-7206

1st customers of Gamers Paradise! The Store Opened 12/6/14 its original Owner Ryan Greteman passed of Cancer and we miss him dearly. The store (his legacy) lives on!

Michael hands Dimitri Finch owner of Geek N Game in Taylor Texas the keys to his brand new game store!

Want to set up your own game store? You have come to the right place. Open a video game store with Game Start Stores! Below are videos and photos showing many our set ups all over the nation. Settle in to your chair and enjoy. When you are finished, please don't forget to fill out the form below for more info!
Live what you love! With Game Start Stores!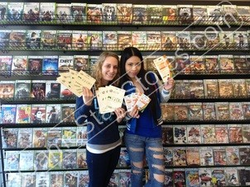 You have arrived at your source for the very best video game store setup program available.
We can open a game start store for you in as little as 4 - 6 weeks depending on the store type you pick! We include a complete build-out including games, consoles, store fixturing, displays, POS, Signage cashwrap, opening operationals, and installation of it all onsite.

We are not a franchise, which means we do not take a monthly percentage of your profits. You pay the fee, and cost of your store one time, and no royalties.

We are the best! Our offer is simply the most effective way to get into your own video game store. Our founder has been opening stores since 2009 and has many clients. We have evolved along the way! We now offer TWO store inventory types.


First is the original video game store setup packed with games, consoles and accessories. Next is the gaming superstore, with everything the original store has plus apparel, toys and collectibles, comics, tabletop games, trading card games, RPG books, posters, and pop culture branded snacks! I have opened stores for people from many walks of life, couples, policemen, active duty military, postal carriers, customer service reps, IT professionals, disabled veterans, recent college grads, retail employees, restaurant employees, hotel employees, teachers, and more, You can do it too! Fill out the form above and lets get going!
---

All media on this website feature actual store builds conducted by Game Start Stores and of actual clients. All testimonials are actual. There are no actors on this site.